Digital signage made easy
NoviSign is a new, easy way to create and showcase your screen across your devices.
NoviSign Digital Signage offers pre-designed templates. Just insert your content and you're ready to go! If you do wish to create your digital signage content, the NoviSign Digital Signage Software Editor (Creative Composer) is very simple to use with a rich set of drag and drop widgets.
Control your screen from anywhere in the world
No technical or design skills required
Dynamic slideshows, RSS feeds, HD videos, weather and more!
Social digital signage
NoviSign's interactive digital signage software allows you to integrate Instagram, Facebook, Twitter and other networks into your content to display live & dynamic social media streams from your social feeds.
Live social walls for events
Corporate and employee feeds
Chats and messaging boards
You can remotely manage your digital signage content from any browser, at any time and wirelessly send updates to your screen. NoviSign's digital signage software allows you to update as many screens as you wish from anywhere. Within two minutes of making an update the content updates!
Preview your content and playlists before sending it to your screens
Easily access and change content from any device and any location
Preschedule playlists to auto-update on defined dates and times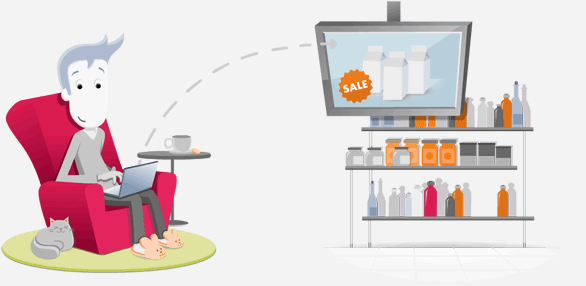 NoviSign's digital signage software offers customer targeted technology, using sensor indication and advanced triggers allowing you to effectively hit your customers with the perfect content. You don't need additional software. Everything is done in our digital signage online studio.
Send marketing advertisements and technological information
Provide product recommendations and upsell services
Display exclusive new promotions and specials
What is Digital Signage?
Digital Signage is a highly powerful and flexible communication method: a dynamic sign (screen) that displays digital media to a public audience. Digital signage software works over an Internet connection, delivering rich media content to digital screens. Use digital signage to grow your revenue, reduce your cost and reinforce your brand.
Position your screen

Place single or multiple screens in your venue.

Create and edit

We've made it easy to create and edit your content with NoviSign – no technical or design skills required.

Showcase

Broadcast to your screens from anywhere to anywhere.
Runs on Chrome OS, Windows and Android!
After you have set up your free 30-day NoviSign trial, you can send content to your player. Once you have your content ready then you need to download our free app. Once installed you can instantly begin sending content to your display!
Free download in the ChromeOS web store
Rated 4 / 5 Stars with 3 real-user reviews
Free download for Windows 7 and up
Available in 32-bit and 64-bit
Free download in Google Play Store
Rated 4.5 /5 Stars with over 76 real-user reviews
Hilton's Premier Five Star Queen of Sheba Hotel Deploys NoviSign Digital Signage across 481 Rooms, 8 Conference Rooms, and Lobby Entrances
From kiosks to in-room TV's read how Hilton's flagship hotel in Eilat, Israel scaled up from a handful of lobby digital signage kiosks to a complete hotel-wide digital signage solution. This is how hotel digital signage should look like.
New 4K Cell Phone Charging Kiosks Ignite the Way Cellphones are Securely Charged, Creating a New and Innovative Way to Advertise
Have you ever been to an event, shopping, or out and your cell phone died? Read how one company just released a new series of advanced digital signage kiosks that are pioneering the cell phone kiosk charging industry.
#1 Provider of Conference Room and Training Venues in Australia and New Zealand Upgrade To Digital Signage for Centralized Digital Communications
For over 20 years Cliftons has been providing leading world brands with state-of-the-art training and collaboration venues enabling organizations to host remarkable conferences, training, and corporate events. Find out why they choose NoviSign to maintain their competitive advantage.
Digital Menu Boards Drive Sales While Enhancing Customer Experiences across all of Canadian's Award Winning Freshslice Pizza Locations
Voted one of the best "by the slice" pizza joints in Canada and serving over 20,000 customers daily Fresh Slice was founded with around one common principle: "High Quality & Fair Price." Learn how and why Freshlice implemented digital menu boards.
Award Winning Independent Pizzeria Use Digital Menu Boards to Improve Customer Experience While Driving New Sales
Voted the Best Pizza in Milton, Ontario, Luigi's Lasagna & Pizzeria believes in quality, consistency and their customers. Discover how Luigi's is using NoviSign for Digital Menu Boards to deliver a next level dining experience.
Digital Signage Improve Patient Experiences at One of Alaska's Largest Most Comprehensive Primary Care Medical and Dental Practices
In 1974, ANHC established Alaska's first community health center. Since then ANHC has grown into the states leading healthcare providers. Learn how ANHC is using digital signage for healthcare to enhance the way they treat and serve their patients.

"We chose NoviSign's Chrome-based digital signage solution because it's cost-effective, scalable and secure."
Chet Patel
Director of Information Technology, Disney
Read the full article
Sign up for a free evaluation account
NoviSign supports Windows, Android, and Chrome OS. You can start using it RIGHT NOW and switch to production at any time.